This subject is quite a popular one in the crafter blogosphere. Us, crafters, especially knitters (because it usually takes sooo long to make a knitted garnment) are asked "why do you make it when you could buy it, you would waste less time". Who hasn't heard that before? Then the looks given by those who ask you that, who think that you are someone who has nothing better to do, and must have a very boring life indeed. Familiar anyone?
When I think "making for wearing" I see different subjects: "Why making when you could buy it?"  and "How to wear what you are making?". I will start this week with the latter.
"How to wear what you are making?" or "How to make so that you'll wear it?"

We (knitters, crocheters, and sewers) have garnments in our wardrobe that we never wear. Haven't we? I see different reasons why I don't wear some garnments I've made:
They don't fit.
They don't flatter me.
What was I thinking when I made that? It's not my colour/style.
This lace/yarn was beautiful on the photos, but I never dare to wear it.
I don't really want to have to wash and block this AGAIN!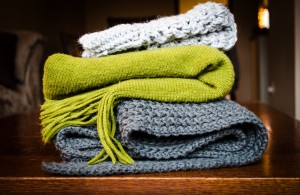 Failure reason #1: "They don't fit."
There is only one word: swatch!
I didn't use to swatch. Guess what? All the garnments that don't fit me are from my pre-swatching period! Surprised?
Just give it a go: Take the yarn you want to use, knit an about 10cm square. Now compare your gauge against your pattern gauge. "only one stitch difference, it won't matter". Well think twice. For a gauge of about 20st/10cm on the pattern, which is actually 21st/10cm on your swatch, if you have casted on 200 stitches for a waist that should measure 100cm, you actually get a waist of 95cm. About a size smaller… THAT is the difference between something that will fit you and something that won't. Actually, you are supposed to (and I recommend you to) wash and block your swatch and measure your gauge then. Joanne has convinced me about swatching during a lesson at The Sheep Shop, Cambridge. If you can't attend her class, read her blog post. And swatch!
If you are a drewwmaker, the swatch is not relevant. But it is relevant to know how to take your body measurements.  And to know how to choose the correct size on the pattern. (this also applied to knitting and crochet garnment) And know how to modify it. I'm still learning on that subject, but it looks like the only way to sew a garnment that will look perfect is to make a toile.
Failure reason #2: they don't flatter me
When you go in a shop, you can try your garnment and decide to buy it or not when you look in the mirror. When you make your garnment, you can't really try it before you make it, can you? 😉
What I try to do when I pick a pattern, is that I try to stick to pattern which shape is similar to a garnment I already have and love to wear. I play it safe, that's right. But then if you want it to be original, you can still play with details, the fabric choice etc…
I think fashion designers have a better sense of which shape of garnment flatters which body shape. I simply don't…
Failure reason #3: What was I thinking when I made that? It's not my colour/style.
Oh that yarn is soooo gorgeous!
Go beyond that first thought, and actually try to think hard: are you really going to wear that colour? Do you have other clothes that will match with this?
Failure reason #4: This lace/yarn was beautiful on the photos, but I never dare to wear it with my lifestyle.
This applies to me a lot. I actually almost never wear a dress or a skirt. First because I dont' find them convenient. To make it short: society expects women to be hairless. I am not. I don't want my outfit to be a constraint on the amount of time I've got to spend in the bathroom and the amount of pain I've got to go through just to wear a bloody dress. Yes, these are the thoughts that go in my mind.
Also, I'm commuting by bike, so out are skirts and dresses. Because I like cycling fast, and Cambridge is a windy town. I don't want to have to also worry about people seeing my knickers or anything else!
(I do sometimes wear dresses and skirts, just not often. And I already have plenty of them, more than I can wear actually! So why making even more?).
So, cycling, I said. When you cycle to work and to nursery every day, you want clothes that are durable. That won't get ruined in the rain. That keep you warm. That don't have frills and other fancy hanging bits that would only be caught in the bike chain or else.
This brings me to…
Failure reason #5: I don't really want to have to wash and block this AGAIN!
Blocking a garnment is what will make your garnment look fabulous. And I tend to do it as often as I can. However, it takes some time and space that I don't always have. Plus when the weather is really miserable, I don't really risk having a wooly jumper on a foam mat for days to dry…
So for all these reasons, it appears that *for me*, the sensible choice for yarn and pattern is to stick with colours that are quite simple and discreet. Yarn that is not really fancy, usually 100% wool. Superwash is really appealing to me.
The patterns I choose are simple sweaters and cardigans that will fit easily under my bike jacket. Long sleeves. Low back. Quite close from my body (loose garnments make me look bigger than I am).
Since I've paid more attention to these criterias, I've been wearing the garnments I make more often. They have become items that I will easily choose in my wardrobe, with a equal chance to be picked  in the morning to the shop bought ones. Or actually higher chance to be picked, because I'm proud to be a maker! But I will leave that subject for another blog post!